Careers
Would you like to join a rapidly growing company with a winning team?  Fabricast Valve offers a very competitive compensation and benefits package, including a 401K plan and health insurance.  We are proud to be an equal opportunity employer and a drug-free workplace.  We are actively seeking personnel for the following positions:
---
Proactive Industrial Sales Agents
Fabricast Valve is looking for proactive industrial distributors and sales agents to sell our knife gate valves. If you are looking to expand your product line or add a new market to your business, contact us. Our reliable, quality knife gates are used in pulp and paper, food and beverage processing, mining, power generation, chemicals, sand, coal, cement and more. We have a broad product line, fast turnaround of orders, and the best skills in the valve business to design and custom fabricate unique knife gate valves. Call 360-425-0306
---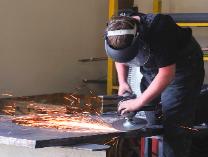 Welder
Welds together metal components of fabricated knife gate valves and related products.  Work is performed as specified by layout, blueprints, diagram, work order, welding procedures, or oral instructions, using electric arc-welding equipment.
---
Designer / Drafter
Develop detailed design drawings and specifications for the fabrication of knife gate valves, dies/tools, and controls, using computer-assisted drafting (CAD) equipment. Coordinate with and consult other workers to design, lay out, or detail components and systems and to resolve design or other problems.
---
Machinist
Set up and operate variety of machine tools. Fit and assemble parts to make or repair machine tools and maintain industrial machines, applying knowledge of mechanics, shop mathematics, metal properties, layout, and machining procedures.
Study specifications, such as Engineering drawings, sketch, or description of part to be replaced, and plan sequence of operations.